If you consider having eyelid surgery you might be unsure about how serious and complicated this surgical procedure is. You might also have some questions on how blepharoplasty is performed, how long it takes and how long would you have to stay in a hospital. This chapter will basically answer most of your questions on eyelid surgery process.
Blepharoplasty surgery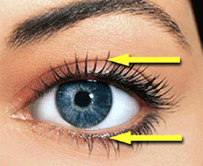 After your initial consultation a doctor decides whether you need eyelid surgery alone or in combination with other facial cosmetic surgeries. After thorough discussion of your medical history, your problems and expectations a surgeon will decide whether you are a good candidate for eyelid surgery and if so, he or she will give you detail information on how to prepare properly for your surgery.
Blepharoplasty may be done in an outpatient surgical department or a hospital under local anesthesia usually. Local anesthetic drugs are injected prior to surgery in the area around your eyes to make this area numb. Additionally, oral or intravenous sedatives are given in order for you to be relaxed during blepharoplasty surgery . During surgery you will stay awake but you will not experience any pain and will be totally relaxed. Most frequently blepharoplasty is performed on an outpatient basis and you will not need inpatient stay before or after surgery.
Eyelid surgery is a minor cosmetic procedure to improve your looks by improving puffy bags below the eyes and drooping upper lids. Eyelid surgery lasts from 1 to 3 hours. This depends on how much should be done. Both upper and lower lids can be done at a time or only upper or lower eyelids can be operated separately. If you decide to have all four eyelids done during one surgery, a surgeon will first operate the upper eyelids, then the lower ones.
If you are worried about postoperative scars, you shouldn't because all incisions are made in the natural folds of the eyelids. Starting with the upper eyelids a surgeon makes an incision in the crease of your lower lid. The incision may extend from one corner of the eye to the other. Then he or she works through that incision in order to separate the skin from the tissues underneath. Excess fat and skin is removed and, if needed, the muscle is shortened to give you a bright glance and smooth and firm skin of the upper lids. Very fine sutures close the incisions in the upper eyelids and a surgeon continues with the lower ones, if you and your surgeon decide that you need the lower eyelids corrected as well as upper ones.
Incisions in the lower eyelids can be modified. If you only need excess fat removed but no excess skin from your lower eyelid, an incision can be made transconjunctively. The procedure is called transconjunctival blepharoplasty and involves no visible scar postoperatively, since an incision is made on the inside of a lower lid. This is usually possible for patients who have a thick and elastic skin. Transconjuntival blepharoplasty therefore is most frequently performed on younger patients.
However, if puffiness of your lower eyelids involves also sagging and excess skin, surgeon's approach is from the outside of the lower lid. An incision also is made in the natural creases of your lids, just below the lashes in the lower lids.
Excess fat and skin is then removed and surgery finishes with very fine sutures leaving almost invisible scars. Excess or wrinkled skin can also be if not removed then smoothened with the help of carbon dioxide laser. Since most incisions are made in the natural creases of the eyelids, except for transconjuctival blepharoplasty, scars are barely visible. The eyelid surgical procedure only leaves hardly visible white lines at the sites of incisions. As you can see, eyelid surgery is a relatively simple procedure that offers wonderful blepharoplasty results to patients. The procedure itself takes not so much time as with other facial cosmetic surgery, post-operative recovery time, when smooth, is rather short and you will be able to go back to public and work in slightly more than a week. If you still have any questions about eyelid surgery techniques and different aspects, do not hesitate to check with your doctor.